Tips to Sleep Better During Pregnancy
For most women, pregnancy is usually a time of great excitement, joy and anticipation. Unfortunately, for others it can also be a period of serious sleep disturbances, even for women who haven't had sleeping problems. As a matter of fact, 78 percent of women report more sleep disturbances during pregnancy than during the other times. Sleeping in any position you liked before, with arms raised like a baby or on you belly – is very hard, even impossible.
Many women also feel fatigued during pregnancy, more so during the first and the third trimesters. Considering the emotional and physical demands of pregnancy coupled with prevalence of sleep disorders amongst pregnant women, it is no wonder that expectant mothers usually become so tired.
One of the main reasons for sleep problems and fatigue during pregnancy are the changing hormone levels. For instance, rising progesterone levels might partly explain the excessive daytime sleepiness, especially during the first trimester. These hormonal changes might also have inhibitory effects on the muscles in obese women.
Many women also experience insomnia as a result of emotions and anxiety about delivery and labor, balancing work and motherhood, or their changing relationships with their partner. As such, it's very important for pregnant women to always prioritize sleep and find effective strategies to manage their sleep problems as early as possible during pregnancy.
Sleep in the First Trimester of Pregnancy
Frequent waking up as a result of increased need to get to the bathroom
Disruptions in sleep due to emotional and physical stress associated with pregnancy
Increased daytime sleepiness
Sleep in the Second Trimester of Pregnancy
Sleep in the second trimester of pregnancy normally improves for most women, because the nighttime urination becomes less of an issue since the growing fetus reduces the pressure on your bladder by moving above it. Nevertheless, the quality of sleep might remain poor due to the growing baby and the emotional stress that's associated with pregnancy.
Sleep in the Third Trimester of Pregnancy
You're likely to experience most sleep problems in this trimester due to:
Discomfort due to the growing belly
Heartburn, sinus congestion and leg cramps
Frequent nighttime urination returns as a result of the baby's changing position which puts pressure on your bladder once again.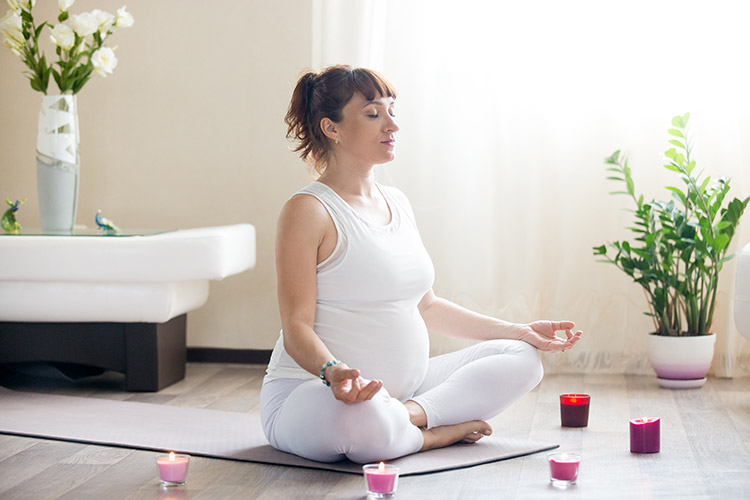 Tips for Sleep Better in Pregnancy
Below is a comprehensive list of tips that might help you get the sleep that you need during pregnancy period. However, if the sleep disturbances are severe, always talk to your physician.
Nutrition. Drinking one glass of warm milk might help in bringing on sleep. Foods that are high in carbohydrates, like crackers or bread can also promote sleep. Additionally, a snack that's high in protein might keep blood sugar levels high and it could help in preventing bad dreams, hot flashes and headaches.
Relaxation techniques. Relaxation might help to calm your mind and also relax your muscles. The techniques include yoga, deep breathing, massage, stretching and a warm shower or bath before bed.
Exercise. Regular exercises during pregnancy promote mental and physical health. Exercises can also help you sleep more deeply. Nonetheless, vigorous exercises within 4 hours of bedtime must be avoided.
Prescription and over-the-counter drugs. Ideally, all drugs (including over-the-counter drugs) should be avoided when pregnant. Some medications can hurt the developing baby. Still, there are certain medications that are considered to be safe during pregnancy and they might help you to sleep better.
Take naps. A 30 – 60-minute nap during daytime makes you more alert, sharpens your memory, and generally reduces the feelings of fatigue.
Extra pillows. A pillow can be used for supporting both the back and tummy. A pillow placed between the legs might help to support the lower back and in turn make sleeping on the side much easier. Some certain types of pillows include the pregnancy body pillow, full-length pillow and wedge-shaped pillow.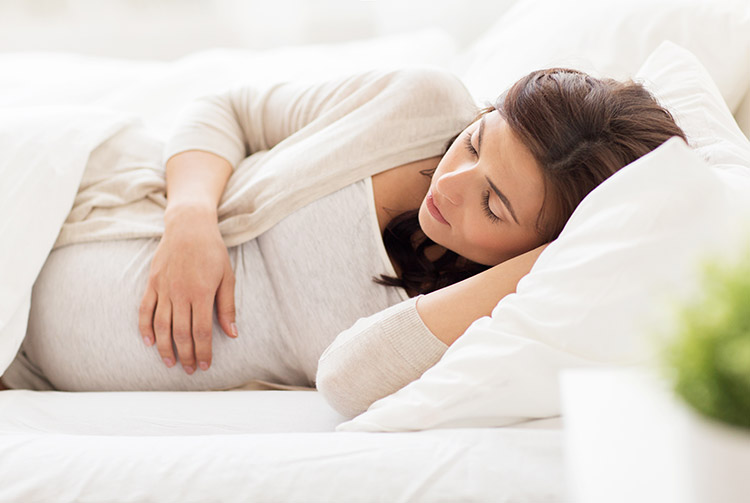 Trust me, a body pillow is the best choice for people with some discomfort at night-time – it really works wonders.
Summary
Sleeping well during pregnancy is quite challenging – but it does not have to be impossible. For most women, it might mean paying extra attention and taking some extra time in order to protect both the quality and quantity of sleep as the pregnancy progresses. As studies show, protecting sleep during the pregnancy is not only good for the mother's health, but it's also good for the child's health as well.
Latest posts by Crystal Waston
(see all)